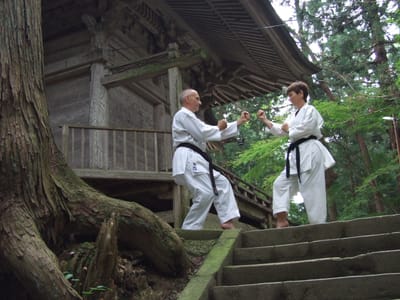 We are a traditional karate club practicing authentic Japanese Goju Ryu, which is one of the four main karate styles in the world today. We are a member of Seiwakai Japan and Japanese Karate Federation Gojukai.
Our classes focus on developing people with confidence, effective self-defence abilities, leadership, respect & humility. These life skills flow through to students becoming positive members in family, community and vocation. As well as life skills, within our dojo students make friends, develop fitness & health.
Instructors (Sensei) are trained and graded in Japan. The Chief Instructor and Senior Instructor train annually with Japanese Masters ensuring that what is taught in our dojo ascribes to the same techniques and standards as that in Japan. The Chief Instructor and Senior Instructor are supported by a group of Instructors who are Japanese graded Black Belts dedicated to helping each student find their personal best selves.
Our karate is
suitable for girls and boys minimum 7 years of age, teenagers and adults
, both men and women of all ages and abilities.
Interested in joining?
You are welcome to view any of our classes and encouraged to participate in a FREE TRIAL CLASSSend us an inquiry on our Contact page
, or email harveybaldwyn@outlook.com or simply give us a call M: 0455 557 134